My way. My adventure. My moment.
At first, it's a little shaky. Then you pick up pace. You keep your balance, look ahead, feel safe, and you cannot stop yourself from smiling. Wow, you think, as you zoom off.
We at Star-Trademarks have a lot in common with our bike fans: we love adventures, freedom, exercise, and fun. For this reason, we develop balance bikes, scooters, bikes, and boards that are extraordinarily resistant. Be it asphalt, a forest path, a skate park, or a gravel road - with our high-quality, certified, and ergonomic products, we even get the smallest on the road safely.
It's about time to pick up speed!
Amazing biking and skating routes lie ahead of us; are you ready to feel free, and to sprint forward? BIKESTAR® is our brand to discover the world on a bike or a balance bike. You can do so with stylish cruise-wheels that are ergonomic and comply with latest security standards.
To those of you, who prefer a firm stand we recommend a STAR-SCOOTER®. The scooters are handy all-round talents that accompany young and older kids wherever they go. Next stop: halfpipe. Not only will you find ultra-light scooters here, but also skateboards and longboards from our STAR-SKATEBOARDS® brand. These classic boards are available in a retro design with cool colour effects, and are made from real Canadian maple wood. Ready, set, go!
ON YOUR SADDLES, SET, GO!
Hello airflow, hello independence, hello world! Being on the road with your bike is a great feeling. The older kids know this just as well as the younger ones on their balance bikes. For that reason, we do everything that we can so that this feeling accompanies them along their way - even if it's just in the driveway.
Quality with heart and mind
Stylish, comfortable, robust, smooth-running, and with a lot of extras. This is more than three wishes at once, but we take all of them seriously. The same goes for the parents' wishes. Not only did we demand high standards for design and quality, but we also optimised the functionality of our products; for instance with a sealed ISO bottom bracket, which allows for smooth pushing of the pedals. In addition, our kids saddles are ergonomically shaped and the handlebar with ball bearing can be adjusted individually. A must-have: the coaster brake and certified non-toxic safety handlebar grips with impact protection.
We exaggerate in a good way:
We are the coolest when we're cruising! That's why at BIKESTAR® we offer extra fat cruiser tyres that are especially produced in this size.
VERY EASY, VERY HANDY,
VERY NICE AND PRACTICAL.
Running late in the morning? Don't fancy taking a walk at noon? A quick stop at the skate park in the evening? With a STAR-SCOOTER® it's super easy to get from A to B.
Thanks to the first-rate processing, the perfectly matched geometry, and the ultra-light weight, you can practice countless jumps and tricks with the scooters. Even the youngest can explore the halfpipe, since our stunt scooters are available for kids of 5 and older. Of course the scooters are also made of Treatment Aircraft Aluminium, as its the case for the bigger models.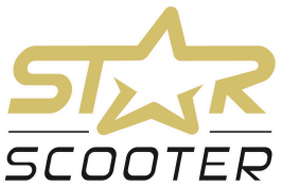 It always works:
Wherever you go, you can always take the scooter with you. There are three different versions of folding scooters: the Cruiser; the XXL Scooter with an extra-large deck; and our full-suspension scooter, which is easy on the joints and ensures a comfortable ride. The lowered deck is also awesome. This keeps your legs from getting tired and helps you take long rides easily.
ONE BOARD, ONE FEELING,
ONE WAVE LENGTH
The Ollie is a classic. The flips work quite well already. You use every free minute to practice your grinds - in a devilish black, peppermint, or candy purple, because our Pennyboards and longboards are as colourful as the Californian skater scene.
For some it is a lifestyle, for others a professional sport. No matter which wave you're riding, on our high-quality longboards made from Canadian maple wood you'll cruise almost automatically. The stylish retro design helps to experience the true Californian feeling and the aluminium axles, equipped with soft bushings, ensure the incredibly high performance.
Not run-of-the-mill, but certified according to DIN EN 13613:2009-08:
We wouldn't make german engineering if we didn't stick to the latest standards. For that reason our skateboards and longboards comply with DIN EN 13613:2009-08 - the German safety standard for roller sports equipment.